Use the left & right arrows to flip the pages or click on the page number.
Excursus
by Mark Staff Brandl
Take an earful from me once, go with me on a hike
Along sand stretches on the great inland sea here
And while the eastern breeze blows on us and the restless surge
Of the lake waves on the breakwater breaks with an ever fresh monotone,
Let us ask ourselves: What is truth? What do you or I know?
How much do the wisest of the world's men know about where the massed human
procession is going? Carl Sandburg 1
Hiking and Thinking
Each of the chapters in my dissertation ended with a short comic as personal commentary; in this article, which is a version of Chapter Three, the illustrated, sequential form took center stage. I had long had the desire to do an extended comic sequence of one of our Wanderferien, the hiking vacations my wife Cornelia and I do with our dogs. We not only appreciate the sites and exercise (enduring the physical ordeal is harder for me as I am less fit than Cornelia and the dogs who regularly do dog sport training such as Agility), but also discuss projects and ideas of ours. This was the perfect opportunity, as Cornelia and I along with our young dog River decided to hike a section of the ancient Via Francigena from Pontarlier, in the Franche-Comté region in eastern France, to the town of Vevey in Switzerland, in the canton Vaud, on the north shore of Lake Geneva. We planned ten days on this section of the ancient road between Canterbury, England and Rome. It began as a Roman road and in mediaeval times was an important pilgrimage route. I was at a point in my dissertation where, after the presentation of the central aspects of my theory of central trope, I was about to apply it to my own artwork. This was an idea of
Professor Ursprung's with which Professor Langlotz was very much in agreement. I was a bit reticent, as I generally abhor most so-called artist's statements and the like. Perhaps it is partially the fear of nailing myself down, as changeability has always been very important to me in my art. Also at this time, I was offered the motivatingopportunity to do one of the largest "Panels" painting-installations that I had ever done. It was to be made and presented in an exhibition in an unused ex-fabric-dyeing factory in Switzerland, now an art center — which finally lead to my huge 4.5 meter high by 45 meter-long (15 ft high x 148 ft long) wall-painting-installation in Jedlitschka Gallery in Zurich in 2013. I realized this was my chance to ruminate on the application of metaphor(m) theory to my work, followed by concretizing that thought process in a substantial piece of art, a challenge I could not resist. This article, then, is the sequential representation of our journey and my internal and external dialogues.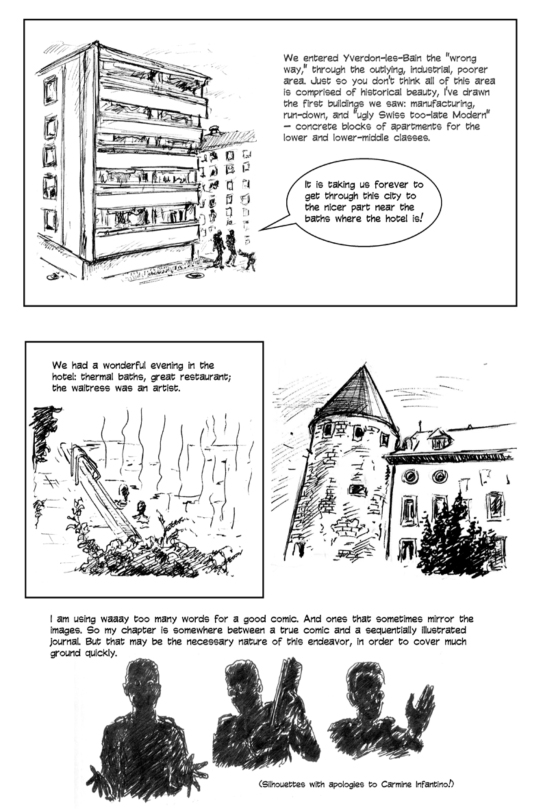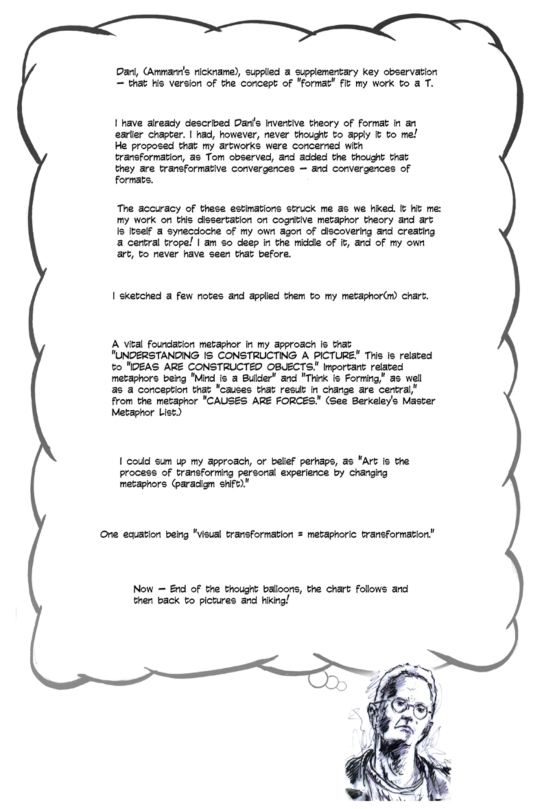 Refresh the page to return to the beginning.